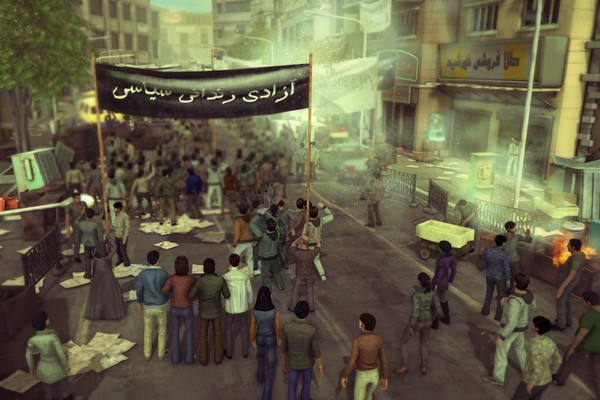 First published for PC in 2016, the adventure game "1979: Revolution – Black Friday" has recently been re-released for the current generation of consoles. This is opportunity enough for the StoryFusion team to have a look at the game's unique blend of gameplay, historical lesson and documentary. Created by Ink Studios, under the guidance of Navid Khonsari and a group of Iranian exiles, the game has received a wide range of accolades, even though its production was off to a rocky start.
In the game the player takes the role of a young photo journalist, trying to document the ongoing uprising against the military regime of the Shah. Yet the different political factions of the time force the main character (and thus the player) to make difficult moral choices along the way, while discovering the Iranian capital of Teheran in 1979, its culture, its politics and its people.
We also take a look at its similarities with Marjane Satrapi's autobiographic graphic novel and movie "Persepolis" and discuss how the team managed to incorporate authentic history documents into the game.
CW: Discussions of torture and civil war
The aim was to create a documentary, but with the character of a game. To combine the two.
You can find us on Stitcher. Alternatively use this link to download the MP3 directly. Or subscribe to our RSS feed. 
The story of the game
0:20 Introduction and the story of the game
4:50 Digression: The political factions in Iran 1979
10:30 The game mechanics
The production of the game and its reception
15:30 About the production of the game
17:40 The reception and the consequences of the game
19:40 The use of historic materials
A comparison with "Persepolis"
24:20 The connection with "Persepolis"
26:10 The differences between identification and immersion
29:40 Choices and consequences
Brian Wood and writing characters
33:30 About co-writer Brian Wood and the Rockstar connection
40:40 Characters in "Persepolis" and other games
Recommendations
45:10 Doro's first recommendation: "Incendies", directed by Denis Villeneuve, based on a play by Wajdi Mouawad
46:30: Philipp's recommendation: "The photographer" by Emmanuel Guibert, Didier Lefèvre , Fréderic Lemercier
48:20 Doro's second recommendation: "Nachts ist es leise in Teheran" by Shida Bazyar
Further Reading
All screenshots are copyright of Ink Stories
Our title song is "Witchcraft" from "Go fly a kite" (General Electric)